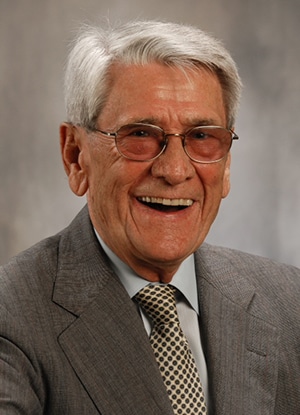 VINCENT F. TULLEY
September 23, 1923 - May 12, 2014
All of us at Tulley Automotive Group express our deepest sorrow at the passing of our founder and Chairman, Vin Tulley Sr. He died Monday, May 12, 2014, at the age of 90 in Nashua, NH.

Mr. Tulley's imprint on our company cannot be overstated. The culture of professionalism and integrity he instilled when he began the business 57 years ago continue to live on through the guidance of his sons Jack, Vince Jr., Mark and Bryan.

Each of our more than 170 employees are profoundly aware of the impact Mr. Tulley's leadership and vision have had on our individual lives, and we are thankful for the many opportunities his company has provided us. We extend our sincere condolences to the entire Tulley family.

A pillar of the local business community, Mr. Tulley was a significant figure in the New Hampshire automotive industry for more than six decades. In 1957 he was serving as the sales manager at Lowell Buick Company in Lowell, Massachusetts. On August 1st of that year, he purchased the Donald Buick Company, located on Main Street in downtown Nashua. He added a Pontiac franchise in 1959, and over the years built Tulley into one of the largest auto dealership groups in New Hampshire. Along the way he received many accolades and numerous awards, among them Time Magazine's Dealer of the Year in award. He served on the New Hampshire Automobile Dealer Association's Board of Directors from 1968 to 1972, and chaired the board in 1970. 
Mr. Tulley was also passionately involved in supporting numerous charities, churches and local hospitals.

The son of John E. and Helen (McLoughlin) Tulley, emigrants from the United Kingdom, Vincent was born and educated in Massachusetts.He is predeceased by his sister, Dorothy T. Stillman of Ormond Beach, Fla.In 1944, Vincent married Ruth C. duPuis, who predeceased him in 2003. Their children are: Donna R. Durkee and her husband, Neil, of Clifton Park, N.Y., Suzanne deMontigny and her husband, Marc, John E. Tulley II and his wife, Brenda, Vincent F. Tulley II and his wife, Cheryl, Mark M. Tulley and his wife, Sue, and Bryan E. Tulley and his wife, Kara; 15 grandchildren, Meredith Durkee Hogan, Elisabeth Durkee Miller, John Durkee, Eric Kilbane, Jessica deMontigny Hudson, Justin deMontigny, attorney Marshall R. Tulley, Morgan Tulley Long, Reid Tulley, Molly Tulley, Jarad Tulley, Jordan Tulley, Corbin Tulley, Kelsey Tulley and Cameron Tulley; and 11 great-grandchildren.The family would like to thank the excellent staff of Courville at Nashua. 
In memory of Mr. Tulley, donations may be offered to the Boys & Girls Club of Greater Nashua, 47 Grand Ave., Nashua, NH 03060.
There will be a private service for the family. Arrangements are in the care of the Farwell Funeral Service, 18 Lock St., Nashua. (603) 882-0591.