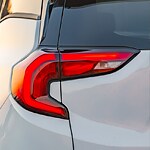 Designers of the GMC Terrain created a ride that utilizes technology to achieve the vehicle's utmost security and safety for its occupants. The GMC Terrain comes with a Pro Safety feature that alerts drivers on possible hazards aside from reassuring confidence on the road.

Lane Change Alert system fitted in the latest GMC Terrain tech provides drivers with a side-mirror visual alert by detecting rapid approaching vehicles. The system collaborates with a side blind zone alert system to prevent bumping into other automobiles when changing lanes.

The GMC Terrain boasts a rear cross-traffic alert system that detects approaching vehicles from either direction when the car is in reverse. High definition multiple surround vision cameras in the GMC Terrain provide a bird's eye view in the front and rear directions.

Since the system optimally operates at low speeds, drivers can avoid crashing into objects when parking their vehicles. Furthermore, the GMC Terrain comes with an automated parking assistance system that helps you maneuver through a tight perpendicular or parallel parking space with ease.