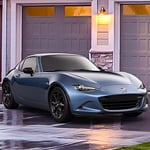 If you're shopping for a new vehicle that ranks high on style and visual appeal, you won't go wrong with the new Mazda MX-5 Miata. This popular convertible roadster is a favorite of drivers in and around Nashua for good reason, and you can test drive one when you visit our local showroom.
Whether you choose the Sport, Club or Grand Touring trim package, you're sure to appreciate the MX-5 Miata's extensive detailing. Front and rear LED lighting is standard across all MX-5 Miata models, and numerous body and roof color choices allow you to create a stunning exterior appearance.
Aluminum hood and trunk covers reduce weight and contribute to the MX-5 Miata's well-balanced construction. The Sport model changes up the exterior look with the addition of a front air dam and rear spoiler.