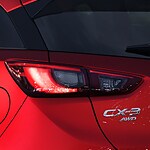 The latest Mazda CX-3 has made a name for itself as being one of the top subcompact crossovers for sale today. It has some of the best design features in the new crossover market. These features are geared toward convenience and safety.
When you get behind the wheel of your CX-3, there is no worry about not being able to access your favorite mobile apps. Through this system, you can pair your vehicle to your smartphone or tablet. You then can use the display on Mazda Connect to get access to your device at the tip of your fingertips.
The subcompact crossover's 2.0-liter engine also gives you power and performance needed to drive on any surface. You can climb hills, go down declines and even take your CX-3 out in the off-road to drive through fields and pastures. It provides the undercarriage and wheels with the handling needed for safe travels.