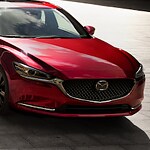 The new Mazda6 is the true representation of what a mid-size sedan should be. This popular automobile appeals to a large demographic of people no matter the age. The Mazda6 is turbocharged for better engine performance, and it can seat five people in the cabin.
The new Mazda6 has an exterior that's crisp and refreshed. You won't find any unnecessary badges or random designs anywhere on its façade. Sleek and sexy is the name of the game. This sedan epitomizes the word chic to the highest degree with its smooth surfaces and glass-like attributes. The LED lighting is a perfect fit for this particular frame, and the LEDs don't overpower the overall appearance of the car. Consumers can choose from multiple trims, including the Sport, Touring, Grand Touring, Grand Touring Reserve and Signature.
If you want more information, then head over to our dealership as soon as possible.