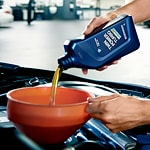 You want to keep your car on the road for as long as possible. You can do that by taking advantage of the comprehensive service and maintenance plan from the professionals at an authorized BMW center. You can rest assured that your vehicle will be in good shape. The BMW technicians have received the proper training. Additionally, if there are parts that need to be replaced, then the manufacturer will make sure that only the original ones are used. Only the best parts will be used.
Regular maintenance helps you save money. Your car will be less likely to need repairs. Basic maintenance detects problems before they can get service.
If you get into an accident, then you can rest assured that your vehicle will be repaired correctly. The technicians will use state-of-the-art equipment. The performance and quality of your vehicle will be preserved.